Warwick's featured collection, Heritage, is known for its beautiful patterns, traditional colours, and could be mistaken for a painters' collection. A collation of timeless designs with a nod to the origins of Warwick Fabrics, founded in 1988 to produce English Classic Screen Prints.
Heritage is a collection of traditional English designs with global influences. Warwick's designer, Steve Downend, has used digital printing technology to mimic original screen and block printing techniques. The individual colour separations can be noticed in each design.
With eight archive based Classical English designs, each is interpreted with artistic licence and printed onto three blended base cloths of linen, cotton, viscose and a fine 100% linen. Each cloth base differs in structure and composition, but is prepared in its natural state to give an authentic aged patina.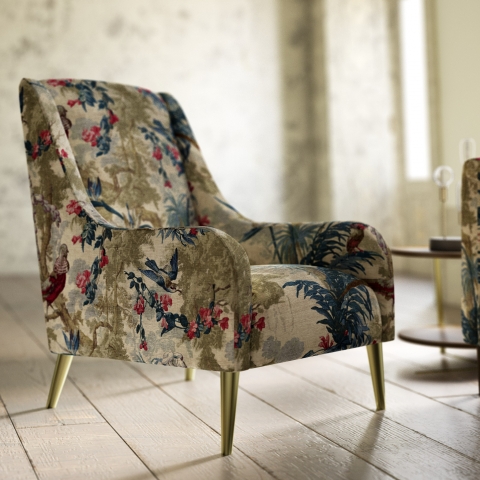 Glyndebourne is a majestic large-scale printed design. Depicting an English woodland scene of boughs and cascading birds.
The lead print design of the collection references an early 19th century document, while incorporating influences from earlier French archives.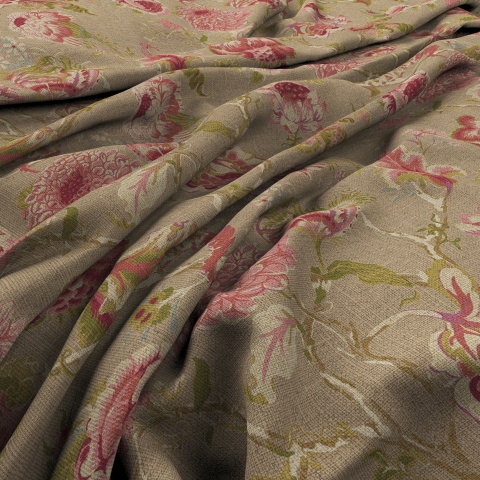 Chatsworth A Jacobean design with colour separation in a loose, modern manner whilst still reflecting original style.
The original Jacobean Floral fabrics, stemming from the late 16th and early 17th century, were mainly Crewel Embroidery in fine detail using silk and wool yarn. Today, print is often used to reflect them. Although commonly considered an English classic, the designs known as Jacobean had a much earlier influence from India in the "Tree of Life Pattern".
The Chatsworth design is a modern take on the traditional Jacobean English Floral. Pairing modern techniques with timeless pattern for a stunning homage to the history of English fabrics.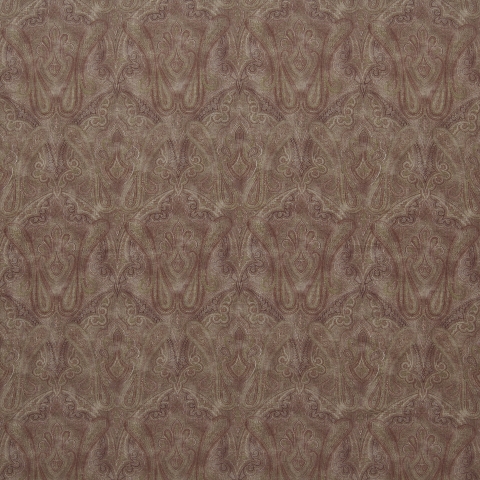 Rousham - This printed Paisley design on a twill base reflects aged woollen shawls originating in Persia.
The original tear drop motif represents the iconic Cypress Tree. The traditional pattern, used mostly in textiles, spread to parts of Asia in the 1600's and later to India where many of the popular shawls were exported to the UK.
Due to demand around the 1800's in the Scottish town of "Paisley", shawls were produced commonly using these designs as reference, thus the name was determined.
Rousham showcases this style with fine detail in the pattern, and the aged patina a depiction of its heritage.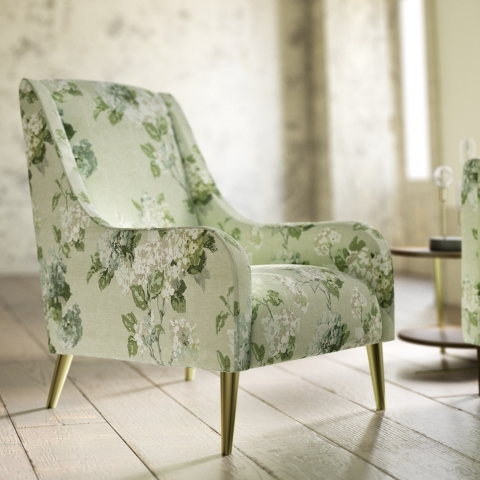 Wentworth – An English Floral Hydrangea print taken from an early worn archive. The colour separations created in Wentworth reflects the original fabrics and give an indication of a block technique rather than detail commonly used in screen printed fabrics.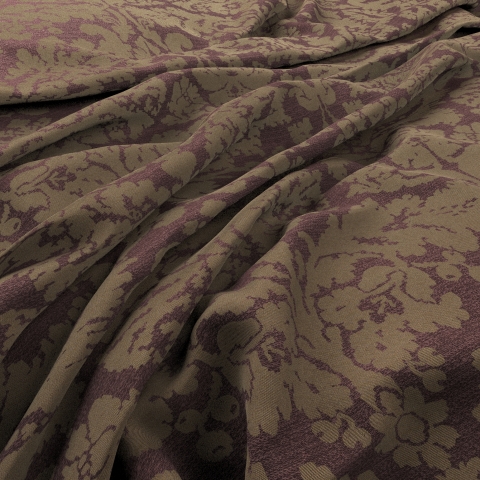 Blenheim – Today we think of Damask as a design reference, however it is actually a type of fabric. The word Damask first appeared in 14th century France and traditionally uses a variety of weave techniques, commonly with a satin face reflecting the desired imagery. Modern Damask patterns show scrolling motifs but early European damasks featured flowers, fruits and animals.
Blenheim is the only non-print in the collection. Jacquard machine woven in fine polyester, viscose and cotton yarn. This texture emulates what would originally have been a hand-woven, silk damask.
Bowood is a grand distressed damask design. This pattern is referenced as a Damask because of its design style of large scrolling flowers.
Unlike the original Damasks emulated in the Blenheim texture, Bowood uses a printed design on a single layer construction. Printed on a fine Linen Union cloth using traditional aged colours to create a modern classic.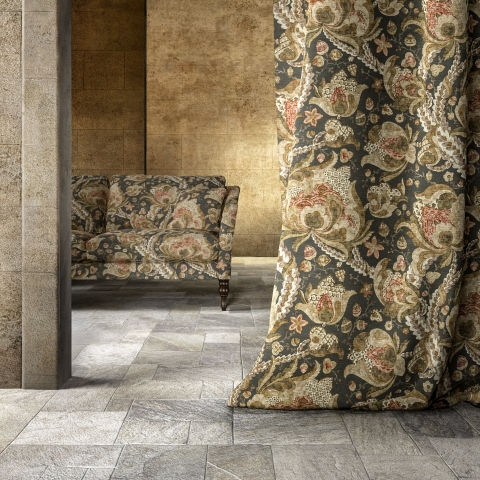 Houghton – Another printed interpretation of a Jacobean design, Houghton features snake-like meandering of the trunk through the pattern repeat. A design choice common within the original Jacobean patterns. Houghton may seem similar to Chatsworth by pattern but has a clearer reference to the Indian 'Tree of Life.'
Although Jacobean, in essence, is a period of time between late 16th and early 17th century, known as the second period of English Renaissance after Elizabethan, the design styles were largely dominated by the flourishing floral patterns of this nature. In fabric terms this would be considered as Jacobean English Floral.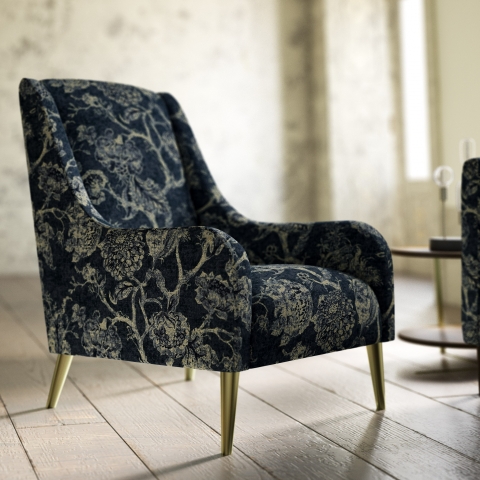 Woburn – A charming vintage design with subtle shading replicating aged patina and the basis of a Jacobean design at its heart.
The separations of colour are reversed using technique that reflects a Batik Wax print. Woburn notably uses a variety of rich dark colours. The patterns largely feature indigo as a tribute to the original and common dye medium used in Batik.