As its name suggests, Medley is a compilation collection of feature print designs with differing influences from various cultures. The collection consists of six designs with five different base cloths with pattern and texture for any design concept. Each design is a Warwick favourite and showcases a bold feature design.
Flowerbomb – inspired by a traditional oil painting of an English Garden. With a multitude of flowers and colours, a floribunda, the rouge colour is the original design, and two further colour ways depicting a more modern garden setting. All are set against a dark background and printed onto a soft touch chenille which gives a slight ageing to the print process.
Alchemy – A modern floral design of watercolour technique, in which you can see the influence of French impressionism. With rich, jewel toned colours, alchemy is printed onto a viscose & cotton velvet replicating a cotton canvas. The bold colours include Paprika, Amethyst, Charcoal and Teal.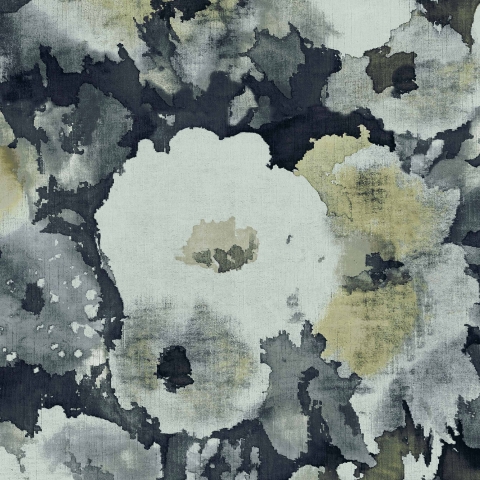 Botanica – As the name suggests, this design is a tropical leaf floral, but the colours and the added texture are unexpected. The design is printed onto a heavy two ply matelassé, a heavy cloth, perfect for unlined curtains. The colours range from a garden night scene "Nightshade" to a vision of French shabby chic in soft Dusk. Ideal for throwing over an old sofa or bed. The Sunset design blends calming oranges and blues. While Cranberry uses more rich colour against a dark background with Mustard yellow and grey for a fresher look.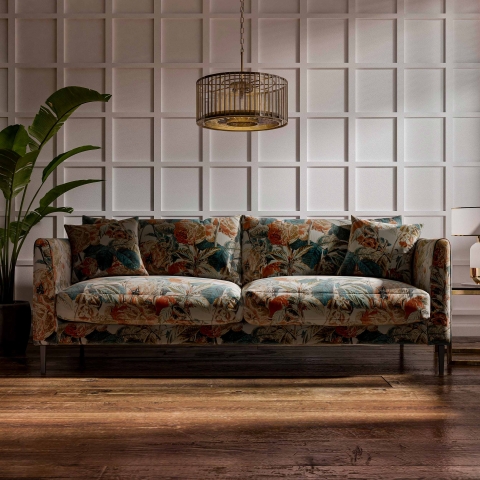 Soumakh – Picture an old Persian carpet with worn areas of colour and the hessian poking through. The design is separated to reflect an aged patina and is again printed onto the matelassé for its iconic woven texture and feel. The colours range from rich reds, tonal Charcoal and Indigo, appearing as if pulled out of a dye vat.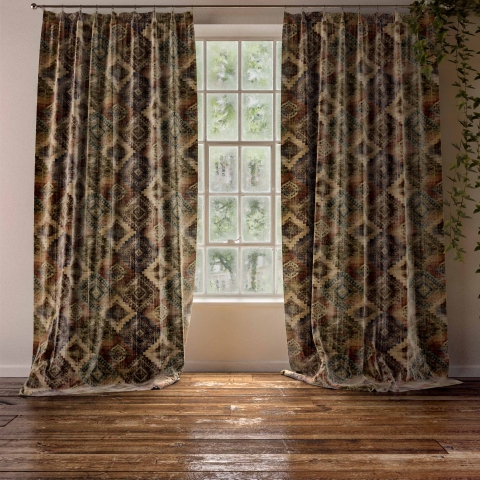 Kuba – An ethnic design reflecting an original Kuba cloth as seen in Africa. The design is printed onto a heavy cotton basketweave in two earthy colour tones typical to the area. Ochre mixed with brown and the natural cloth tone showing through as if protected from the dyes by wax and then removed. Indigo has the same feel with the intensity of the dark navy, as though soaked in the indigo dye.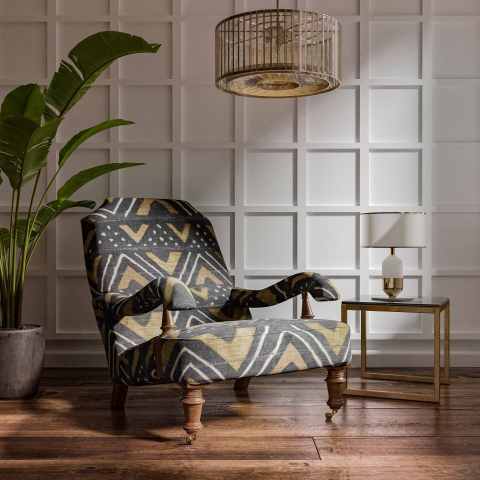 Anthropology – An old Warwick favourite re-sampled. The design is taken from an original ottoman rug with a few alterations to reflect the modern world. The added interest comes from the full width repeat. Therefore, each stripe band across the horizontal is individual. Printed onto a lighter cotton barkweave cloth but still with textural interest. Now available in three colours; the Antique as per the original, Watermelon with crisp jewel tones and Denim, tones of fresh blue mixed with ochre and mustard.