We have 2 key collections launching in March - an exciting follow-on collection from Titanium, entitled T2, and a complimentary upholstery collection called Metropolitan.These two ranges work so well together, we can't wait to see what you do with them!
Metropolitan is an essential upholstery collection, offering contemporary designs and soft textures in a palette of striking yet neutral shades. With designs named after the urban environment, Metropolitan showcases a broad spectrum of flexible designs equally suitable for residential living rooms and hotel settings.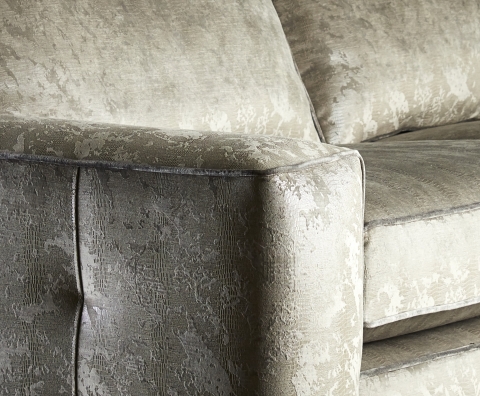 Featuring a range of geometric designs and chunky weaves and stripes, interspersed with bold animal-inspired prints in a mixture of neutral shades, Metropolitan is an impressive collection, and even more so when combined with T2.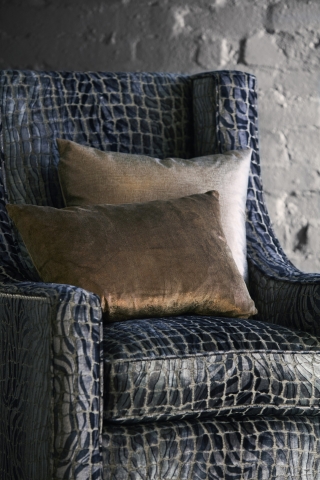 Integral designs include Tube; a modern geometric pattern, Railway; thick vertical stripes with metallic undertones, and Crocodile (shown on the chair above) a daring design – think crocodile meets zebra! The collection consists of 25 designs, in a variety of colour ways. All fabrics in Metropolitan are suitable for upholstery, with selective designs also being suitable for drapery.
The glamorous T2 collection is a follow-on from its highly popular predecessor, Titanium. This modern collection is beautiful, glitzy and futuristic with curious textural weaves.Showcasing gorgeous damask, printed velvets, unusual sheers and distressed designs, T2 brings the wow factor to any interior, and is perfect for those wanting a bold and striking look.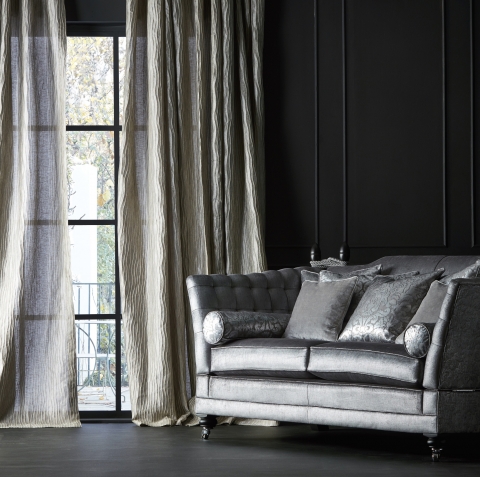 Like its sister Metropolitan, T2 features a palette of neutrals, but combines a mix of metallic shades and finishes, resulting in a strong collection that is unique and appealing. Key designs of the collection include Tempest; a stunning lazer-cut, textured design, Mars; a geometric pattern with shimmery flecks, and Lucas; a shiny, printed damask.
The collection features 15 designs, in a variety of colours; coppers, golds, pearls and silvers. Whilst the majority of the collection is solely suitable for drapery, selective designs are also suitable for upholstery.