Bloomsbury is our brand new printed floral collection.
The three painterly prints: Amelia, Jessica & Penelope are on a durable cotton duck
with excellent handle for all drapery applications.
Impressive abrasion characteristics, due to the density of the weave, mean they are
equally suited for either upholstery or curtains and blinds.
The finish is soft and natural, with a fresh Spring-inspired colour palette complimenting
the delicate style of these beautiful florals - bringing the ultimate garden into your home.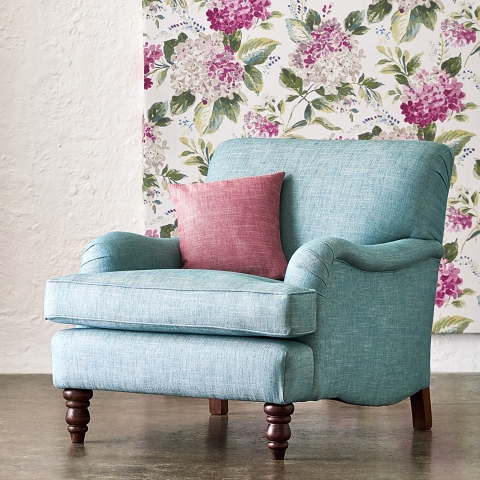 Alongside these uplifting prints is one of our favourite plains, Husk (shown above on the armchair)
in brand new colours specifically selected to compliment the prints. Husk makes up beautifully on
upholstery or drapery, and is the prefect choice to mix with the floral designs.
All Bloomsbury fabrics are stocked in our UK warehouse and sampled in a super pattern book with
inspirational photography - cuttings are available to order via our website and Approvals can be
borrowed to view in your own home through our many friendly stockists.